Another autumn has crept up on us quickly, and with this change in weather comes the flurry of  pumpkin spice everything. It was in 2004, in fact, that the pumpkin spice phenomenon really took off, after Starbucks introduced their Pumpkin Spice Latte nationwide. And ever since, the obsession with this flavor has simply taken over the season, flooding advertisements and hitting the shelves of supermarkets and menus of coffee shops with equal fervour. It's so in-your-face you can surely almost taste it.
There's pumpkin spice vodka, pumpkin spice hummus, pumpkin spice bagels, and pumpkin spice Pringles. The fiercely followed spice is in granola bars, pudding, soy milk, Clif Bars, popcorn, Peeps, Four Loko… and the list goes on, and on… and on.
I myself have never tasted the annual Starbucks treat or purchased the various items filling up the shelves as I saunter through the aisles of the grocery store, but it has concerned me that the mass production of the flavour, in such a wide range of items for such a short period of time, is a marketing ploy by companies to get it while it's hot, and not while it's real. And when The Wall Street Journal broke the news that Starbucks' most beloved fall beverage contains no real pumpkin, rather natural and artificial pumpkin spice flavor, the jig was truly up.
So what's a pumpkin spice fanatic to do? Well, you could carry on trying to pick apart every product presented to you in hopes that it does, indeed, come complete with real pumpkin spice, or you can try to make the following five recipes from scratch that actually come complete with the real deal.
Healthy Homemade Pumpkin Spice Latte
Source: Eating Bird Food
This drink can be whipped up in a total of 10 minutes. Complete with pumpkin puree, pumpkin pie spice, unsweetened vanilla almond milk, vanilla extract, and cinnamon, you'll be happy to find Starbucks isn't your only option. Try the recipe here.
No Bake Pumpkin Spice Energy Bars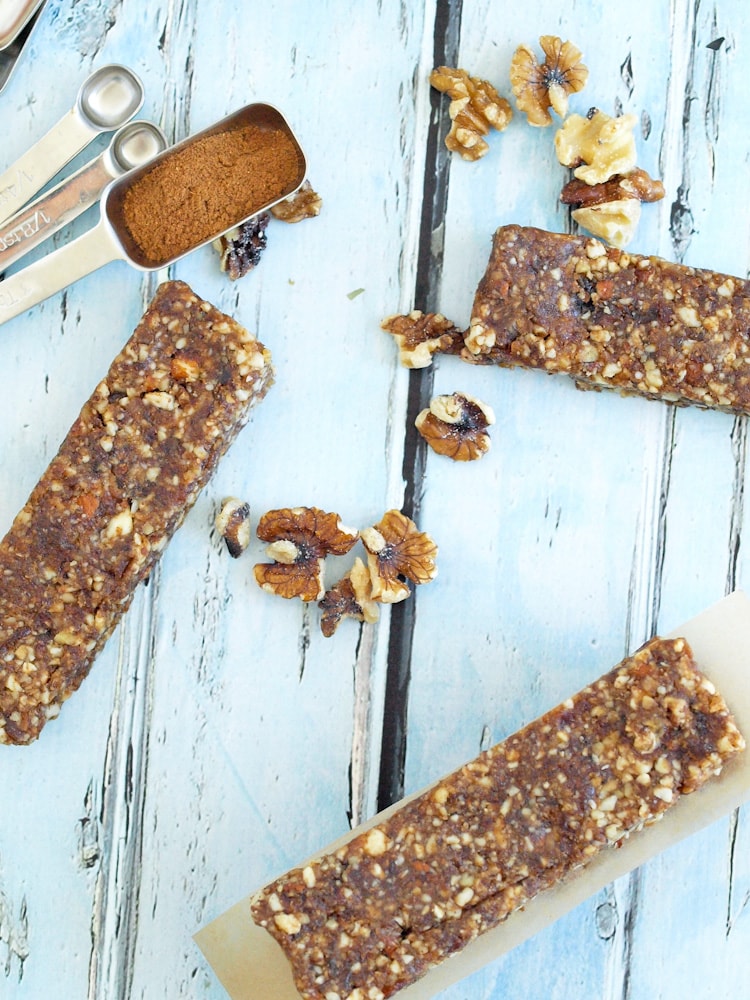 Source: Happy Healthy Mama
Granola bars are one of the go-to options for a healthy snack when time isn't on your side. But not all bars are created equal, so it's important to be mindful of what's really in the ones you get. And if DIY is your thing, then these no-bake bars featuring dates, walnuts, almonds, pumpkin puree, and pumpkin pie spice ought to be on your list. All you have to do is put the ingredients in a food processor and pulse until the mixture is well combined. Here's the recipe.
Healthy Pumpkin Pie Spiced Hummus With Cinnamon Graham Crackers
Source: Gringalicious
Whip up this sweet snack in no time. The crackers call for ingredients like honey, vanilla extract, whole wheat flour, and cinnamon, while the hummus includes pumpkin puree, garbanzo beans, molasses, and walnuts. Find the recipe here.
Pumpkin Spice Baked Apples

Source: The Gracious Pantry
It's fall, so undoubtedly apples are in abundance. This 5-ingredient healthy dessert is full of fiber and vitamins. All there is to it is one apple, honey, pumpkin spice, dried cranberries, and walnuts. Get the recipe here.
Pumpkin Spiced Nuts
Source: Bare Root Girl
Mix together avocado oil, maple syrup, vanilla, salt, pumpkin pie spice, cayenne pepper, and almonds to bake for a crazy good recipe that will feel festive for the season, satisfy your sweet tooth, and still leave you feeling full with healthy fuel. Here's the recipe.
Featured Image: Gimme Some Oven
---
Do you want to bring more happiness into your life?
Happify's activities and games are based on a decade's worth of cutting-edge research by psychologists and neuroscientists from leading academic institutions around the world.
Happify's exercises are personalized directly for you based on your unique goals.

If you are looking to bring more peace and joy into your life this year Start out with Happify for FREE!
Watch this ground-breaking cancer docu-series TV considered too controversial. Watch now!
Source Article from http://feedproxy.google.com/~r/Collective-evolution/~3/tHIFFUIcUrw/
Hits: 0