Late on Saturday night, the suicide bomber drove the vehicle into a busy shopping intersection in the affluent Karrada district of the Iraqi capital. The holy month of Ramadan meant the street was busy with residents breaking their fast after nightfall, with many also gathered to watch the Euro 2016 football championship on public TV screens, and shop ahead of next week's Eid festival.
Then the explosion rang out.
"It was like an earthquake. I wrapped up my goods and was heading home when I saw a fireball with a thunderous bombing," eyewitness Karim Sami told AP. "I was so scared to go back and started to make phone calls to my friends, but none answered."
A host of buildings – including a shopping center and a gym – were damaged, with charred cars smoking in the street.
At least 25 children were killed, and the death toll mounted throughout Sunday, as a fire took 12 hours to contain, and rescue services attempted to extract bodies from under the rubble.
Almost immediately, the Islamic State terror group boasted that it was behind the attack on its sectarian rivals, calling it a "security operation."
In another Baghdad district, a roadside bomb exploded in a busy market, killing five and injuring 16, in a consistent pattern with Islamic State's favored tactic of launching multiple near-simultaneous attacks to create a sense of terror. No one has yet claimed responsibility for that attack, however.
READ MORE: 'US uses sectarian violence as weapon to unthread and destabilize Middle East'

One person has been arrested in connection with the explosions.
Prime Minister Haider al-Abadi, a politician from Iraq's Shia community, raced to Karrada, vowing revenge.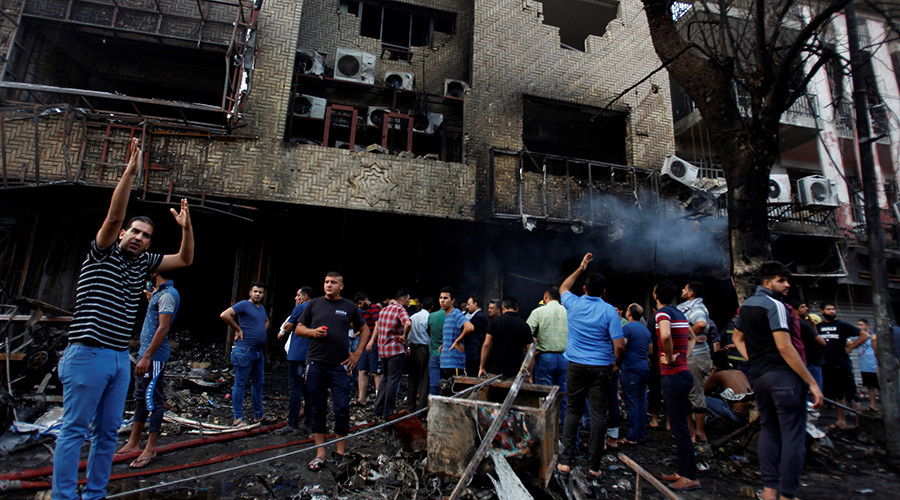 "The terrorist groups carried out such desperate deadly attacks as a result of being crushed in the battlefield," said al-Abadi, in reference to the government's recapture of Fallujah from ISIS over the past month.
But few were contented with al-Abadi's rhetoric, and videos uploaded on the internet showed his cortege being jeered by Karrada residents, with many throwing cans and stones at the armored vehicles. According to Iraq Body Count, more than 1,000 civilians have died violently each month this year, continuing a resurgence in violence in the country, which has been concurrent with the rise of Islamic State.
Condolences and statements of solidarity poured in from the the UN, the US government and Iraq's allies in the anti-ISIS coalition.
"These acts of mass murder are yet another example of Da'esh's [ISIS's] contempt for human life. From Baghdad to Istanbul, Brussels, Dhaka, and Paris, Da'esh terrorists murder the innocent to attract attention and recruits. They will not succeed," said a statement from the White House, which has endorsed and supported the latest counter-offensive against the Islamists.
But despite reassurances from the coalition that control of Fallujah would deprive extremists of their launch pad for such attacks, the setbacks may only force ISIS to employ even more desperate and savage tactics.
Source Article from https://www.rt.com/news/349396-iraq-baghdad-isis-explosion/?utm_source=rss&utm_medium=rss&utm_campaign=RSS
Hits: 0