Update (10 am ET): Just as we anticipated, President Trump has responded to Amash's comments by calling him a "total lightweight" and  somebody who has regularly opposed Republican policies.
Never a fan of @justinamash, a total lightweight who opposes me and some of our great Republican ideas and policies just for the sake of getting his name out there through controversy. If he actually read the biased Mueller Report, "composed" by 18 Angry Dems who hated Trump,….

— Donald J. Trump (@realDonaldTrump) May 19, 2019
Trump also accused Amash of playing into the Democrats' hands.
….he would see that it was nevertheless strong on NO COLLUSION and, ultimately, NO OBSTRUCTION…Anyway, how do you Obstruct when there is no crime and, in fact, the crimes were committed by the other side? Justin is a loser who sadly plays right into our opponents hands!

— Donald J. Trump (@realDonaldTrump) May 19, 2019
We look forward to watching Amash walk this one back.
* * *
Despite supporting President Trump's legislative agenda roughly two-thirds of the time (though he recently made a show of opposing the president's border-emergency order), Michigan Rep. Justin Amash tweeted Saturday that he believes the president should be impeached, a position that will undoubtedly alienate him from his Republican peers, becoming the first elected Republican to endorse that position.
Not only did the Mueller Report show that Trump engaged in what Amash called "impeachable conduct", but Amash criticized Attorney General Barr, whom he accused of deliberately trying to distort the report's conclusions (keep in mind, Mueller has confirmed that Barr's representations of the report's findings were 'factually accurate').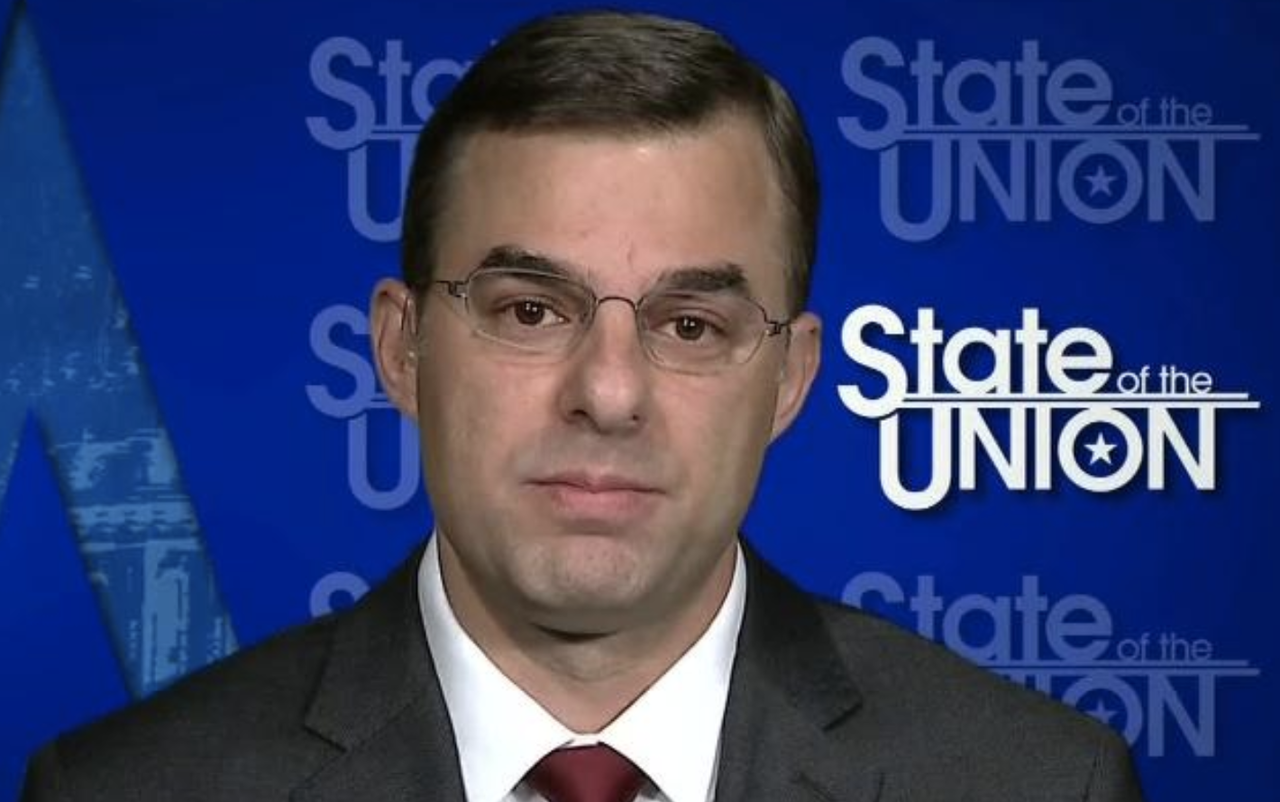 In an epic, seemingly apropos-of-nothing tweetstorm, Amash concluded that "partisanship has eroded our system of checks and balances," and that "few members of Congress have read the Mueller report," which clearly suggests that Trump may have committed serious offenses related to obstruction of justice.
Here are my principal conclusions:
1. Attorney General Barr has deliberately misrepresented Mueller's report.
2. President Trump has engaged in impeachable conduct.
3. Partisanship has eroded our system of checks and balances.
4. Few members of Congress have read the report.

— Justin Amash (@justinamash) May 18, 2019
I offer these conclusions only after having read Mueller's redacted report carefully and completely, having read or watched pertinent statements and testimony, and having discussed this matter with my staff, who thoroughly reviewed materials and provided me with further analysis.

— Justin Amash (@justinamash) May 18, 2019
In comparing Barr's principal conclusions, congressional testimony, and other statements to Mueller's report, it is clear that Barr intended to mislead the public about Special Counsel Robert Mueller's analysis and findings.

— Justin Amash (@justinamash) May 18, 2019
Barr's misrepresentations are significant but often subtle, frequently taking the form of sleight-of-hand qualifications or logical fallacies, which he hopes people will not notice.

— Justin Amash (@justinamash) May 18, 2019
Under our Constitution, the president "shall be removed from Office on Impeachment for, and Conviction of, Treason, Bribery, or other high Crimes and Misdemeanors." While "high Crimes and Misdemeanors" is not defined, the context implies conduct that violates the public trust.

— Justin Amash (@justinamash) May 18, 2019
Contrary to Barr's portrayal, Mueller's report reveals that President Trump engaged in specific actions and a pattern of behavior that meet the threshold for impeachment.

— Justin Amash (@justinamash) May 18, 2019
In fact, Mueller's report identifies multiple examples of conduct satisfying all the elements of obstruction of justice, and undoubtedly any person who is not the president of the United States would be indicted based on such evidence.

— Justin Amash (@justinamash) May 18, 2019
Rather than attack President Trump, Amash emphasized that the standard on impeachable "does not even require probable cause," which doesn't sound like a great excuse for impeaching someone.
Impeachment, which is a special form of indictment, does not even require probable cause that a crime (e.g., obstruction of justice) has been committed; it simply requires a finding that an official has engaged in careless, abusive, corrupt, or otherwise dishonorable conduct.

— Justin Amash (@justinamash) May 18, 2019
While impeachment should be undertaken only in extraordinary circumstances, the risk we face in an environment of extreme partisanship is not that Congress will employ it as a remedy too often but rather that Congress will employ it so rarely that it cannot deter misconduct.

— Justin Amash (@justinamash) May 18, 2019
Our system of checks and balances relies on each branch's jealously guarding its powers and upholding its duties under our Constitution. When loyalty to a political party or to an individual trumps loyalty to the Constitution, the Rule of Law—the foundation of liberty—crumbles.

— Justin Amash (@justinamash) May 18, 2019
We've witnessed members of Congress from both parties shift their views 180 degrees—on the importance of character, on the principles of obstruction of justice—depending on whether they're discussing Bill Clinton or Donald Trump.

— Justin Amash (@justinamash) May 18, 2019
After a certain point, it started to seem like Amash's tweetstorm might have been spurred by anger at his colleagues for not bothering to have read the Mueller report.
Few members of Congress even read Mueller's report; their minds were made up based on partisan affiliation—and it showed, with representatives and senators from both parties issuing definitive statements on the 448-page report's conclusions within just hours of its release.

— Justin Amash (@justinamash) May 18, 2019
America's institutions depend on officials to uphold both the rules and spirit of our constitutional system even when to do so is personally inconvenient or yields a politically unfavorable outcome. Our Constitution is brilliant and awesome; it deserves a government to match it.

— Justin Amash (@justinamash) May 18, 2019
Amash's tirade should boost his credentials as a leader of what's left of the #NeverTrump movement, though as we're sure even he would admit, what's left isn't much. What's worse, his tirade went viral, and likely drew the White House's attention.
Some were quick to label Amash 'the new Jeff Flake.'
Congressman Justin Amash, the new Jeff Flake, expressed his disire to have President Trump impeached. Justin(Flake)Amash wants to become President. Like the Democratic Presidential Canidates now running for the Oval Office, what has Justin Smash accomplished to become President?

— Herman Milas (@HermanMilas) May 19, 2019
Others threatened to primary him.
Justin Amash used to be one of my favorite members of Congress

He used to fight for liberty and the constitution

Now he is fixated on adoration from the left & media

He ignores Trump's WINS on every front

Amash, you have let us ALL DOWN

We will now primary you

You will lose

— Charlie Kirk (@charliekirk11) May 19, 2019
Even Romney, seen as Trump's biggest antagonist in the Senate, doesn't see a case for impeachment.
Breaking with @justinamash, @MittRomney says that a case for obstruction, or even impeachment, "just isn't there." pic.twitter.com/mPj0k8hekG

— Washington Examiner (@dcexaminer) May 19, 2019
The notion that a Republican would oppose Trump certainly doesn't seem like one that's rooted in notions of good politics. Trump has a 90% approval rating among Republicans and is a lock for renomination at the 2020 convention. His campaign war chest already has $30 million in it. Very few Republicans will likely back Amash's decision, though we wouldn't be surprised to see Amash welcome sympathy from the left.
Amash is a libertarian and a member of the Freedom Caucus. We imagine his conservative colleagues in the House, who are among the most loyal to Trump, will treat him after his latest tirade.
Source Article from http://feedproxy.google.com/~r/zerohedge/feed/~3/BpbAkp_uN8k/republican-congressman-justin-amash-says-trump-should-be-impeached
Hits: 79