IFP has taken a look at the front pages of newspapers on Monday and picked headlines from 23 of them. IFP has simply translated the headlines and does not vouch for their accuracy.
Abrar:
I take technical responsibility for the JCPOA: Salehi
Iran won't negotiate, won't compromise on missile programs: Araqchi
No deal with Larijani about parliament speakership: Aref
Donald Trump: Obama is like a child
Japanese destroyers call into Philippines port near disputed South China Sea waters
10. $10bn Saudi support for anti-nuclear terrorism centre
Dozens killed in Karabakh conflict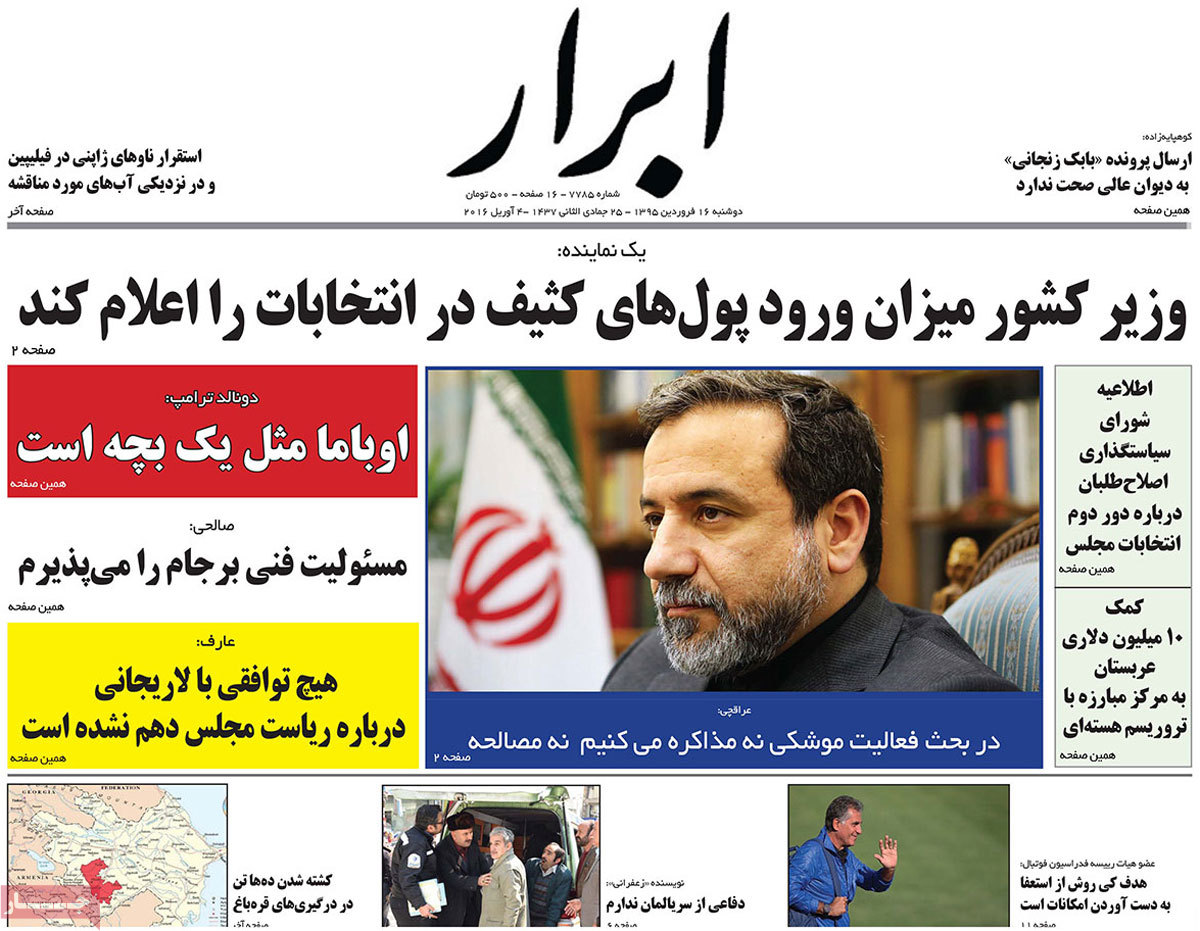 ---
Asrar:
I accept technical responsibility for JCPOA: Salehi
Justice Minister: Modesty and the hijab can't be forced
Culture Ministry seeking to ensure Shajarian's return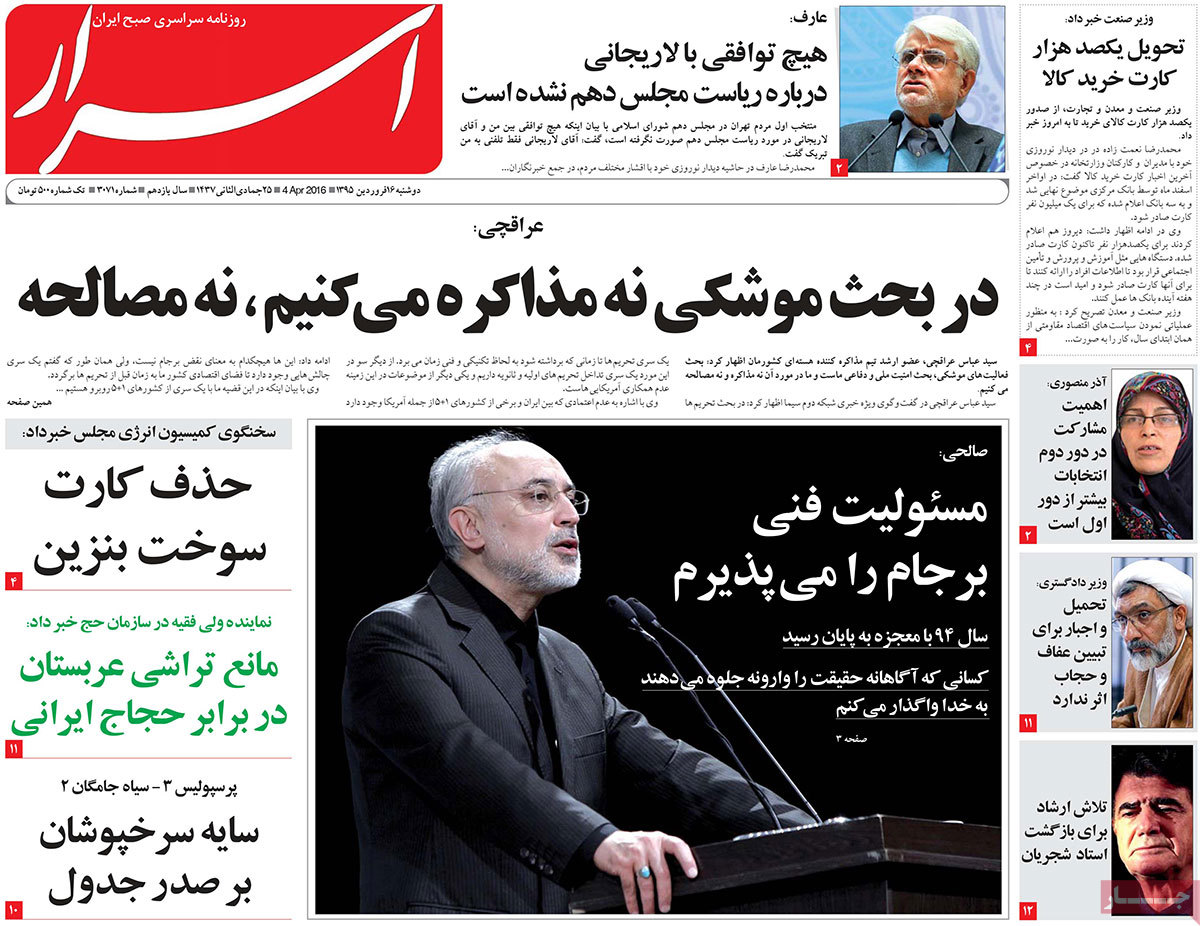 ---
Arman-e Emrouz:
Calls on Rouhani to free 2009 protest leaders
In an interview with Arman-e Emrouz, Dr. Mostafa Moein calls on the Rouhani administration to consider freeing the leaders of the 2009 post-election protests.
Zarrab travelled to US knowing he would be arrested: Expert
Pilgrimage without Iranian pilgrims
The Saudi government withholds issuing visas for Iranian pilgrims for this year's Haj.
900 grandfathers became fathers again last year
Over 8,000 elderly marriages registered in Iran last year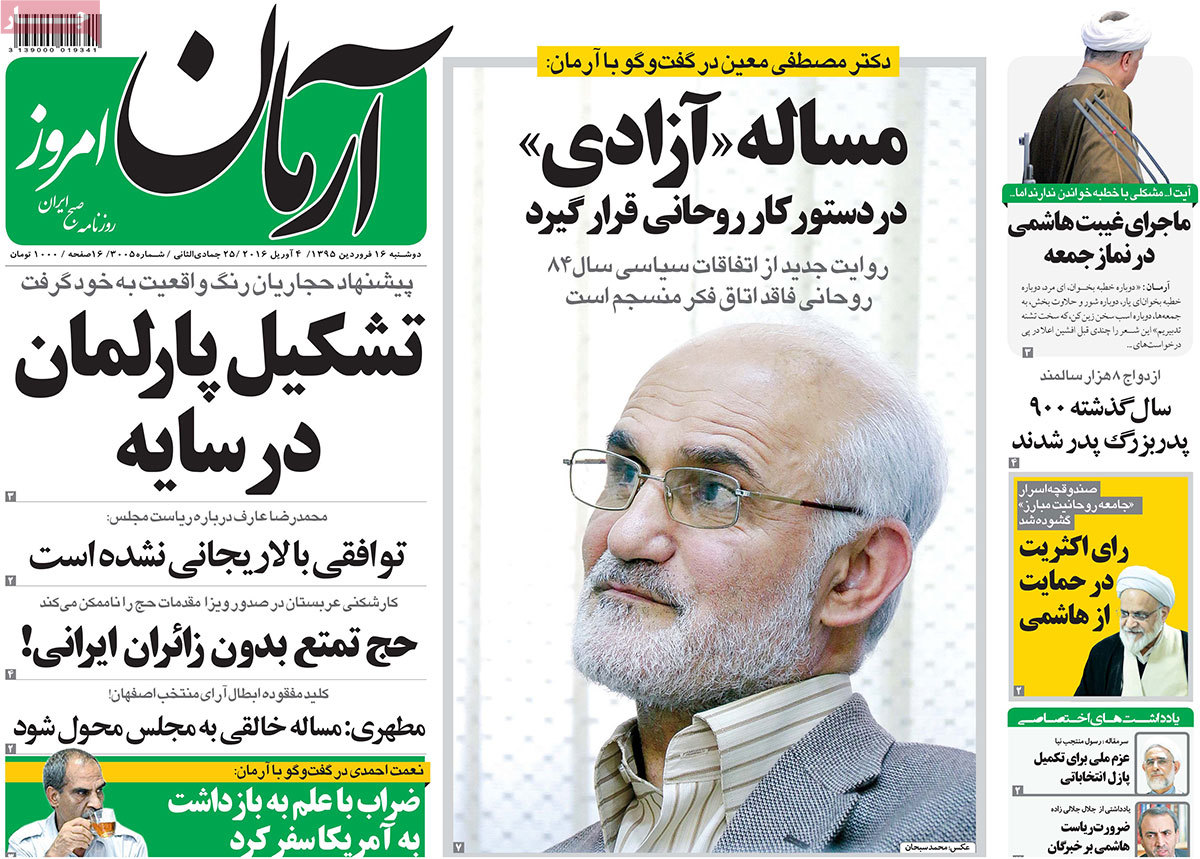 ---
Ebtekar:
Report assesses possibility of Ahmadinejad returning as next Iranian president
Iran oil exports hit 2 million bpd
US and IRIB undermine JCPOA: senior negotiator
Aref denies being in cahoots with Ali Larijani
The two figures are the primary candidates to be the head of the next Iranian Parliament.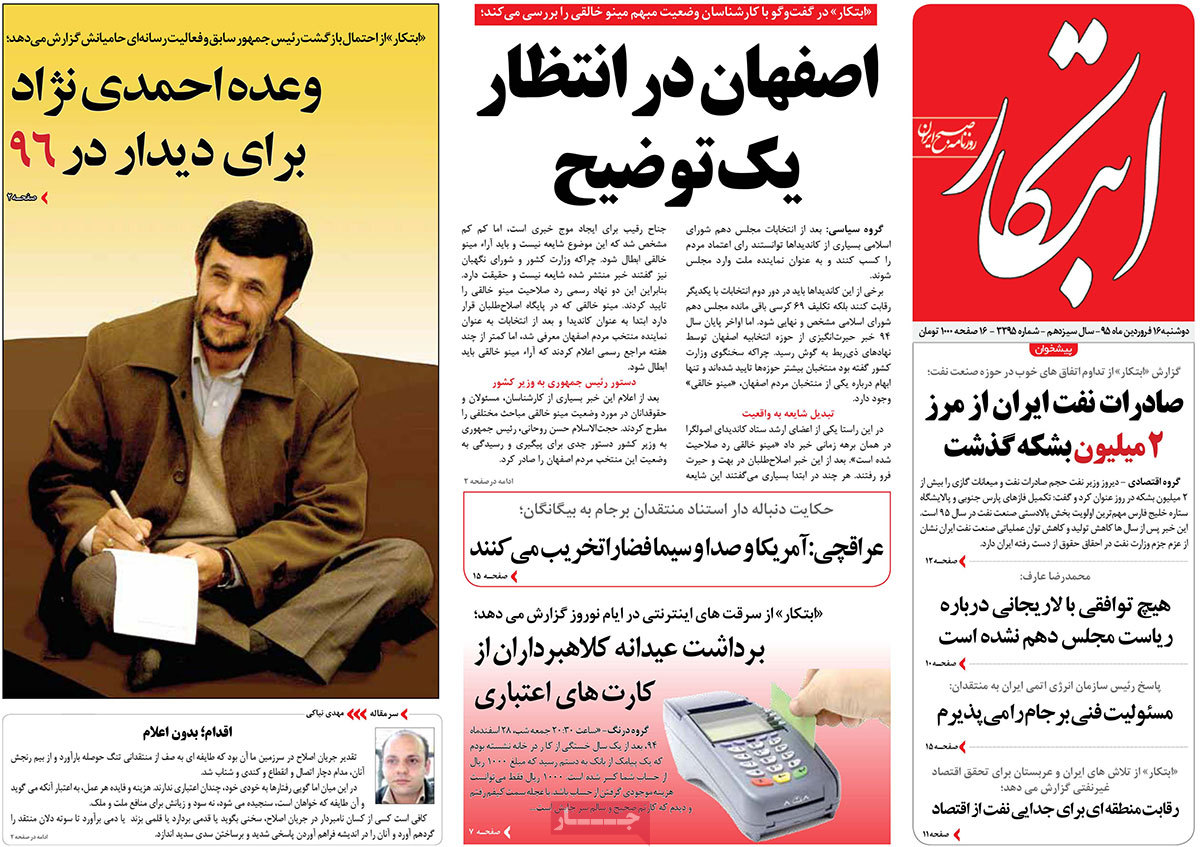 ---
Ettela'at:
CBI eyes one-digit inflation rate for current calendar year [started March 20]
Azerbaijan claims ceasefire in Karabakh
Negotiator forbids IRIB from implying that sanctions have not been lifted
DoE unfolds plans to curb pollution in 20 major cities
Iran to build 4 parks for physically challenged citizens in capital
Iraqi, Syrian armies gain major wins against ISIS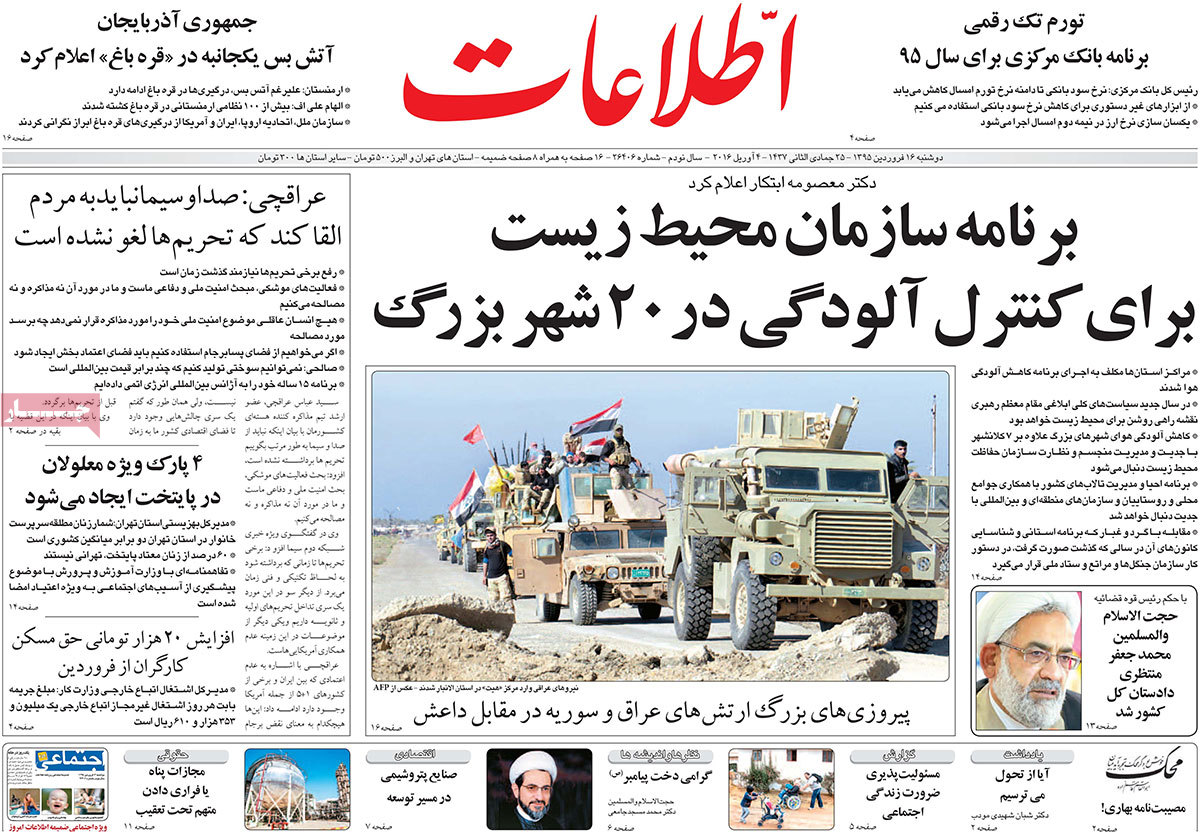 ---
Etemad:
Ahmadinejad: We will meet next year
New Prosecutor-General appointed
Trump targets Obama's signature
---
Afkar:
Parliament speaker underlines need for bolstering missile might
No talks on missile program: Araqchi
Saudi Arabia wants no pilgrimage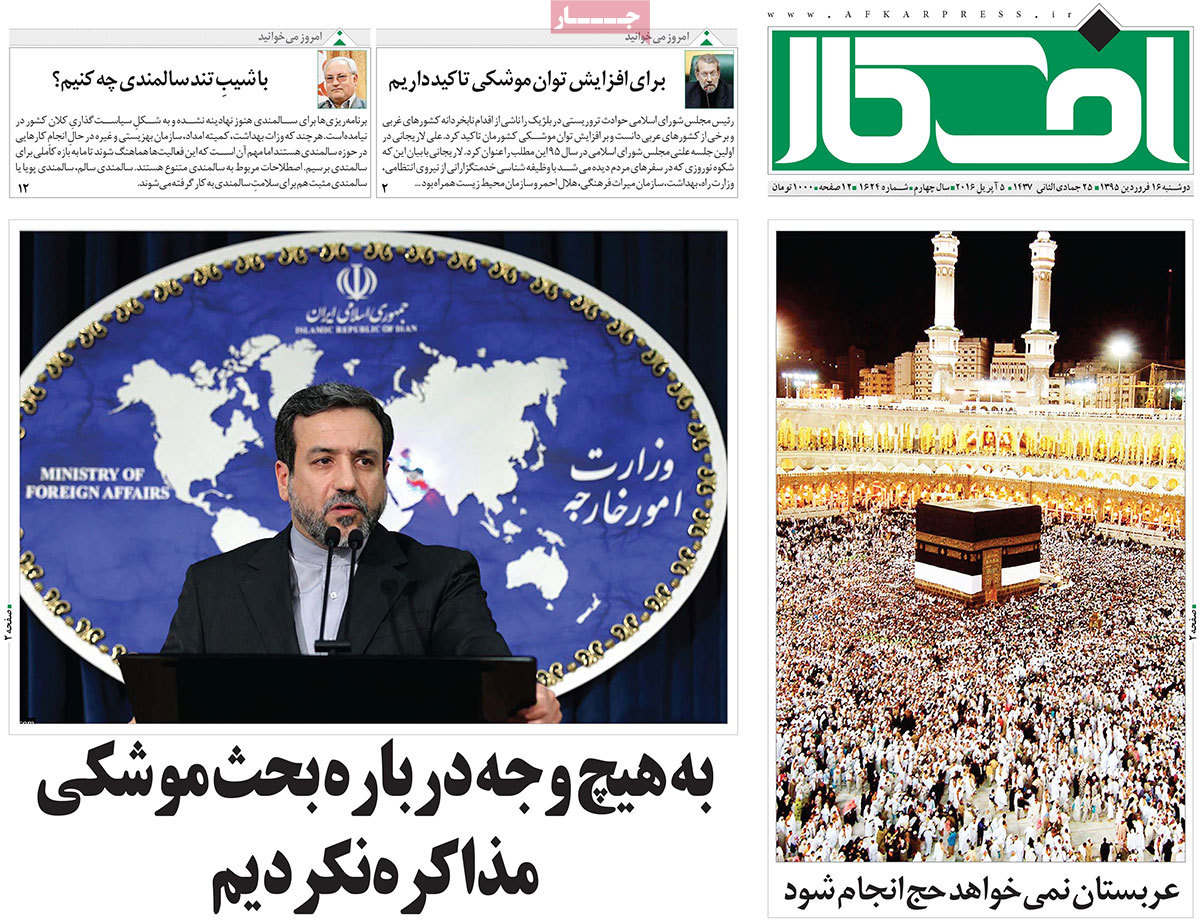 ---
Emtiaz:
Most dangerous human trafficking band exposed
Details about the excruciating torture of kidnapped women and girls.
IRIB admonishes program for mistreating guests on national TV
Islamic Republic of Iran Broadcasting (IRIB) has criticized producers of a televised program entitled Dore Hami (literally: Together) for disregarding cultural codes of conduct and disrespecting its guests by forcedly cutting their hair on stage to amuse viewers.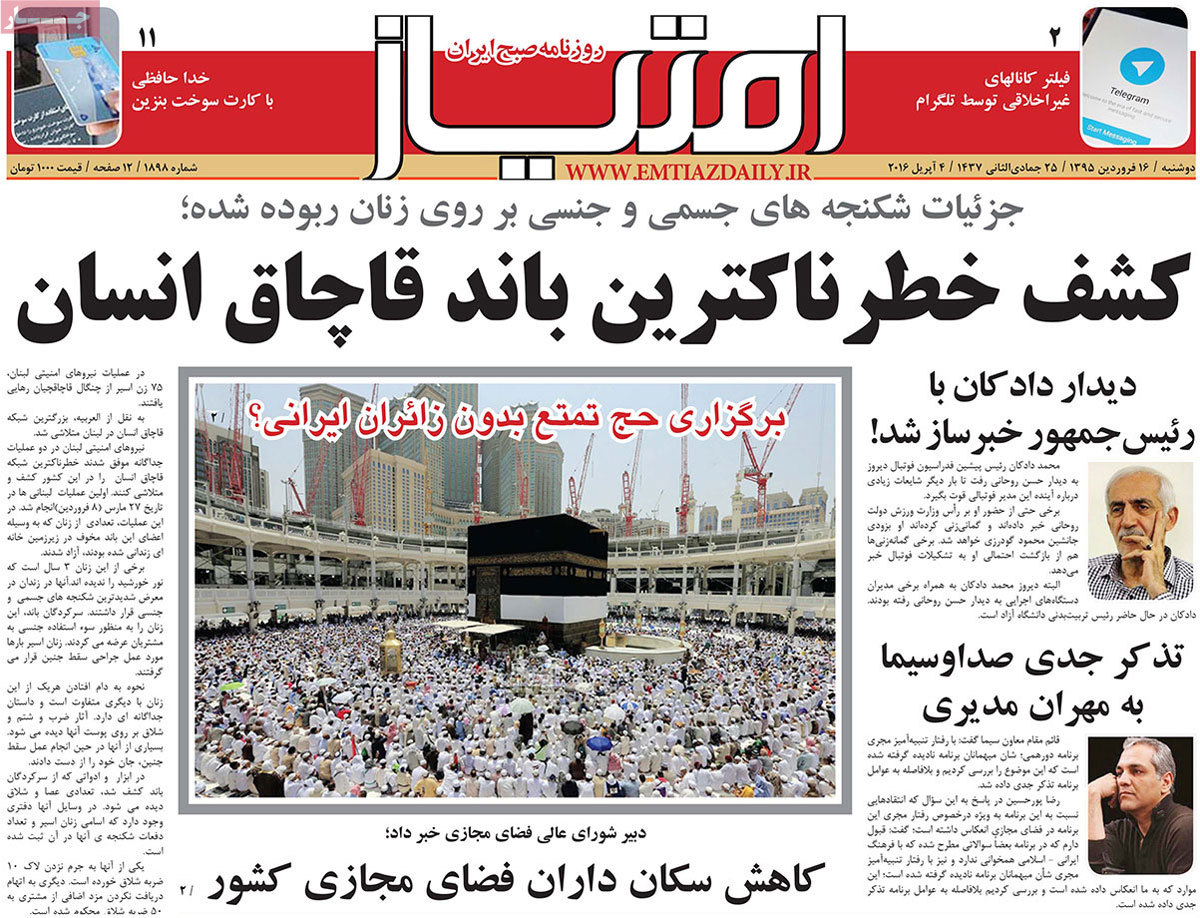 ---
Iran:
Iran eyes one-digit inflation rate
Zanjani's partner being tried in US
Peugeot says it will make up for past issues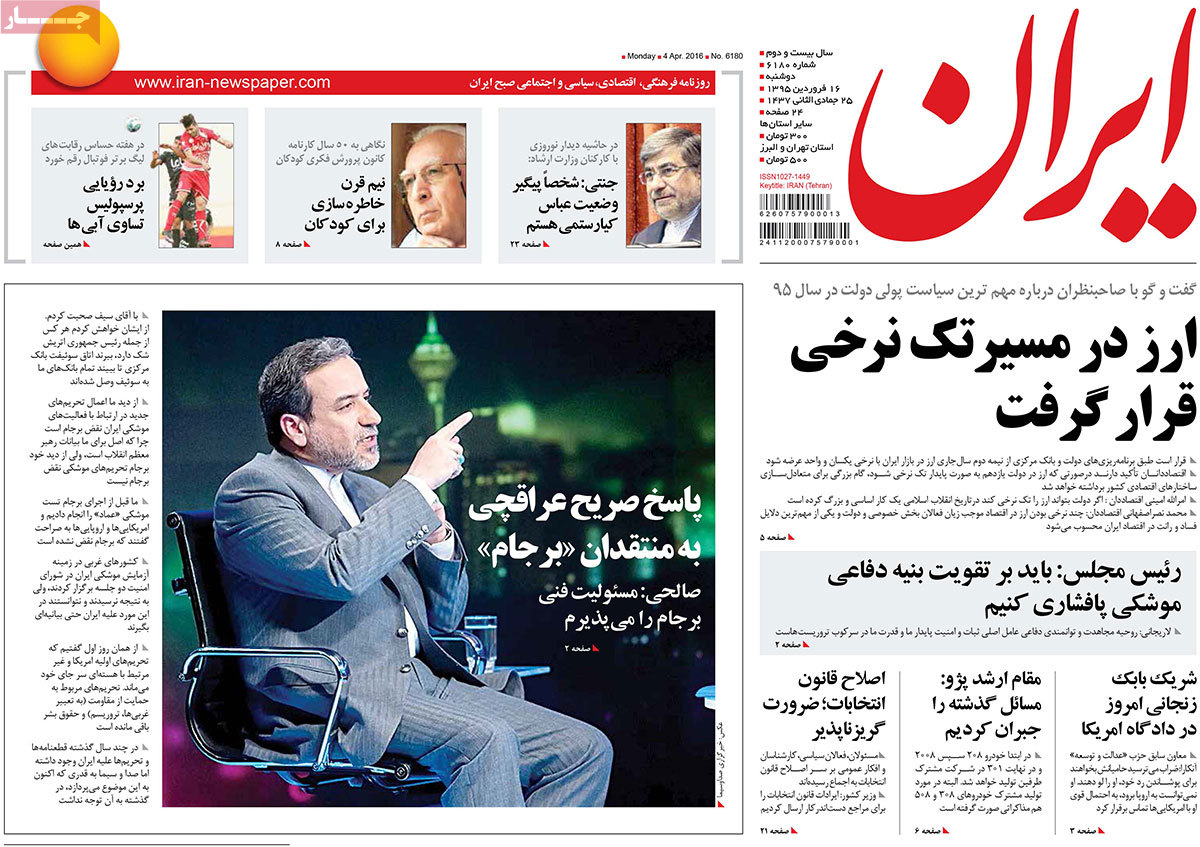 ---
Payam Zaman:
Iran raises subway, bus, taxi fees
US disrupting JCPOA implementation: Senior negotiator
Peugeot to officially recommence activities in Iran by early May
Shell repays debts to Iran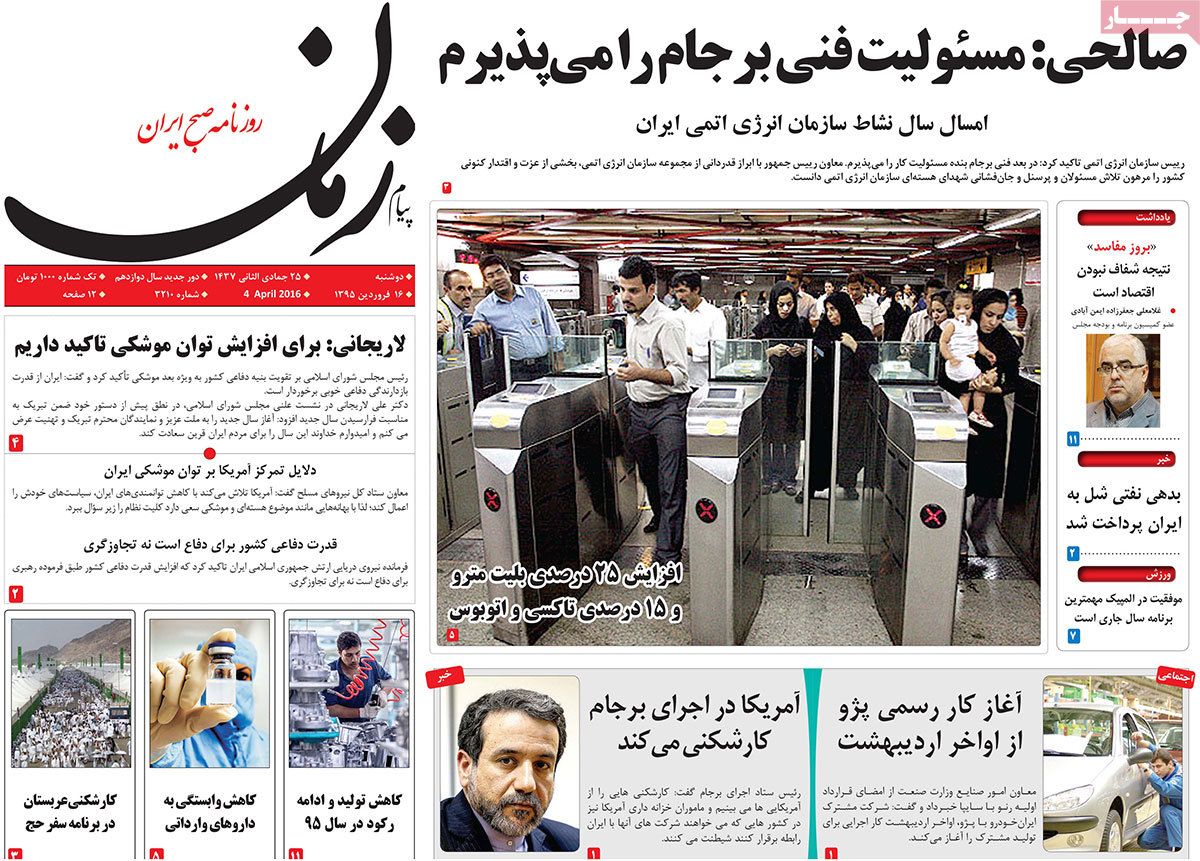 ---
Jamejam:
Karabakh: The Achilles heel of peace in the Caucasus
Sanctions removed only on paper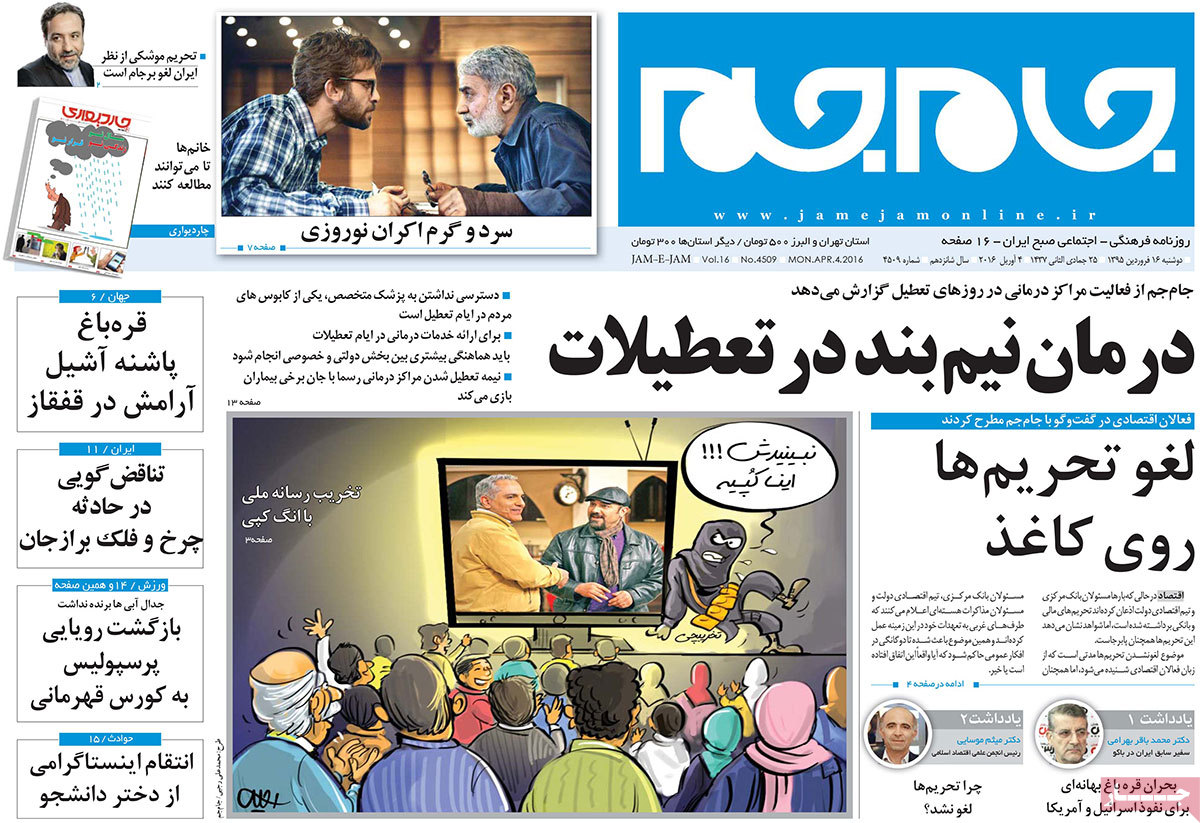 ---
Jomhouri Islami:
Iran considers allocating IRR160bn facilities to small industries
Imam Khomeini: Your administration is the administration of the disadvantaged – it must act in their interest.
Europe seeking to make up for sanction damage on Iran
Iranian foreign policy focused on regional peace as second global step: FM
Yemeni forces capture some Saudi officers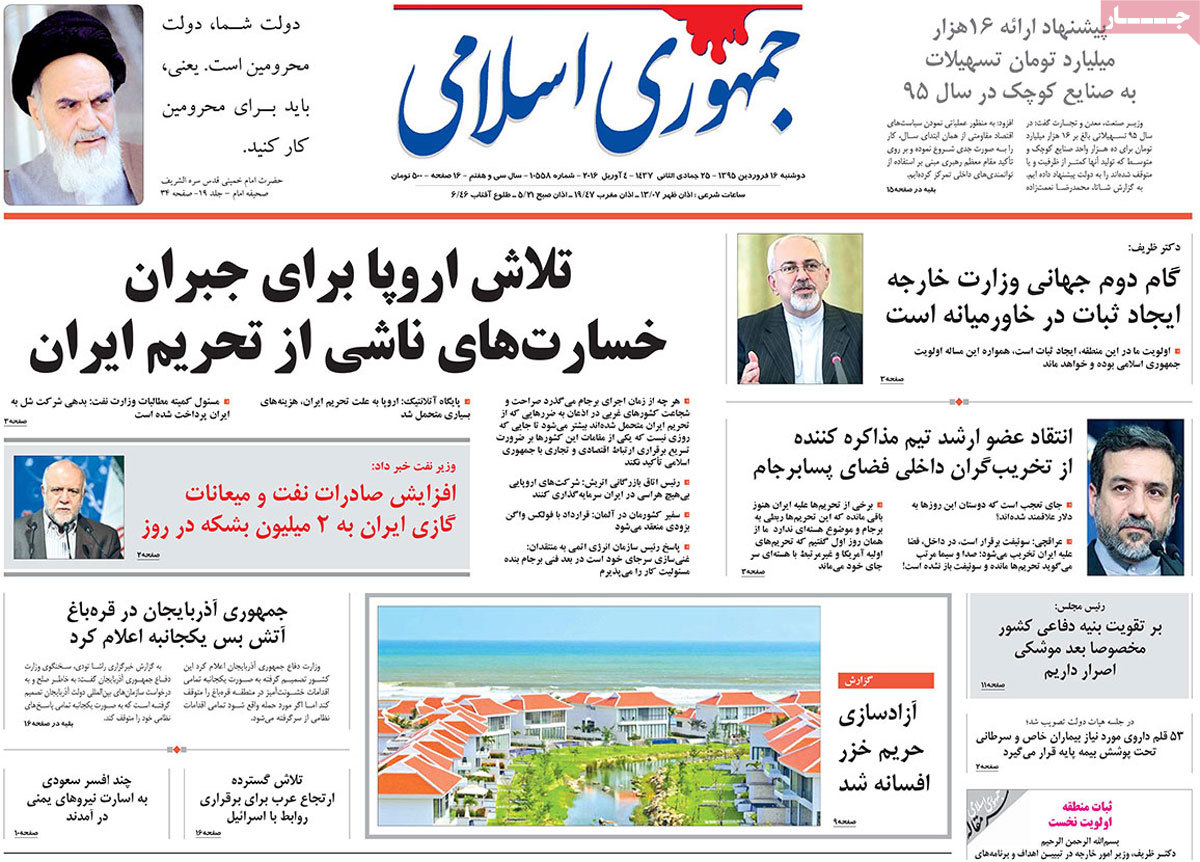 ---
Javan:
26% of urban families lack a working member
Turkish fire in Azerbaijan-Armenia conflict
---
Hemayat:
Military top brass: Missile strength the backbone of diplomacy
Imam Khamenei and Ayatollah Bahjat predicted victory in 33-day war: Hassan Nasrallah
Global Research: Obama's Fake Air War on ISIS
Head of Justice Department: Countering corruption is chief judicial priority
---
Khorasan:
Ahmadinejad responds to allegations about his presidential candidacy
Administration unfolds plans to curb recession
Iran warns Azerbaijan and Armenia over 3 rockets hitting Iranian soil
Latest updates about Kiarostami and Shajarian conditions
Film method used for robbing gold shop
---
Rah-e Mardom:
Salehi: Talks would have failed without Leader's sharpness
Notable rise in jobless families
---
Resalat:
Economy is Iran's Achilles' heel: Parliament speaker
US disrupting JCPOA implementation: Senior negotiator
Reactionary Arabia pays $33bn for Western arms
Minister announces startup of resistive economy implementation
Blast hits EU's political heart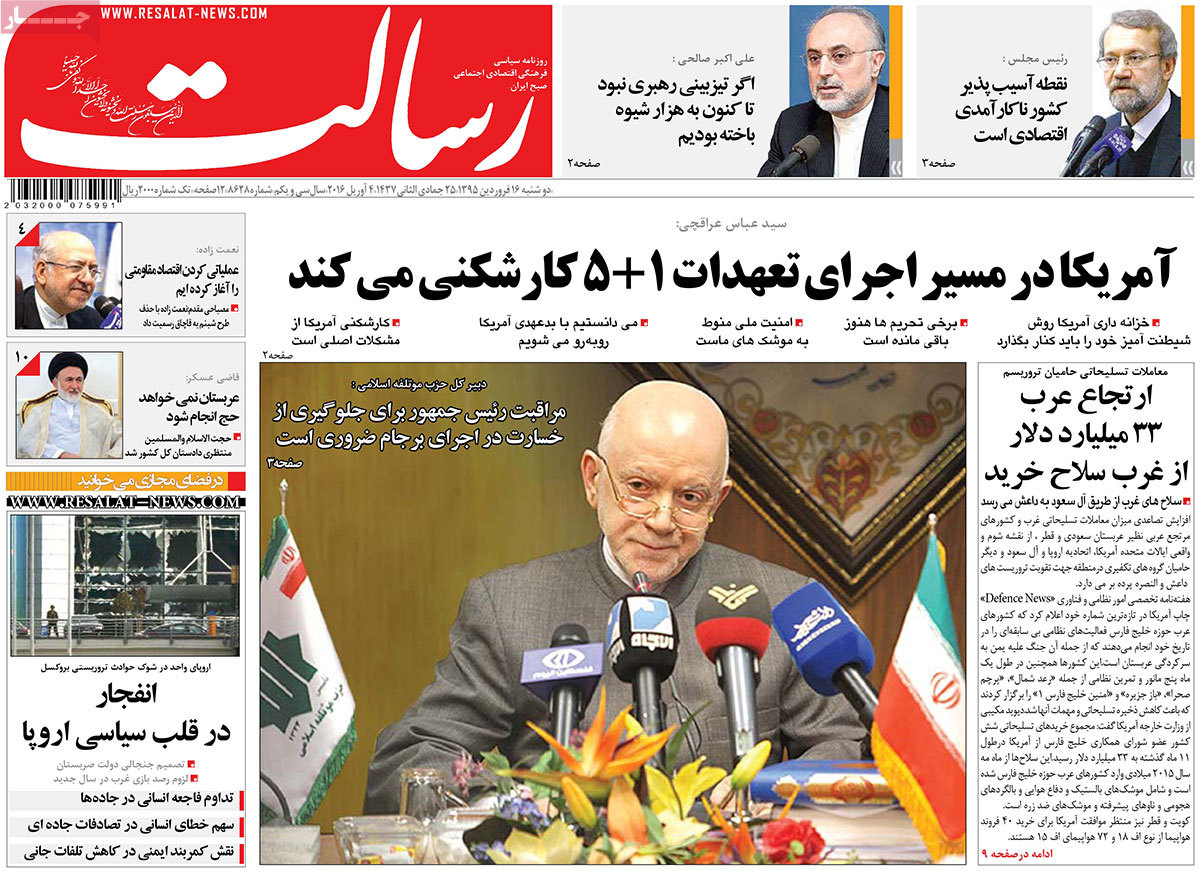 ---
Rooyesh Mellat:
No financial troubles for Olympic Games: Official
Without Leader's sharpness, we would have lost [in talks]: Salehi
Syrian president: West not honest
---
Shargh:
The fate of torturers
A report about the history of Iran's political police
Latest on detained journalists cases
Iran bid to sell billionaire Zanjani's properties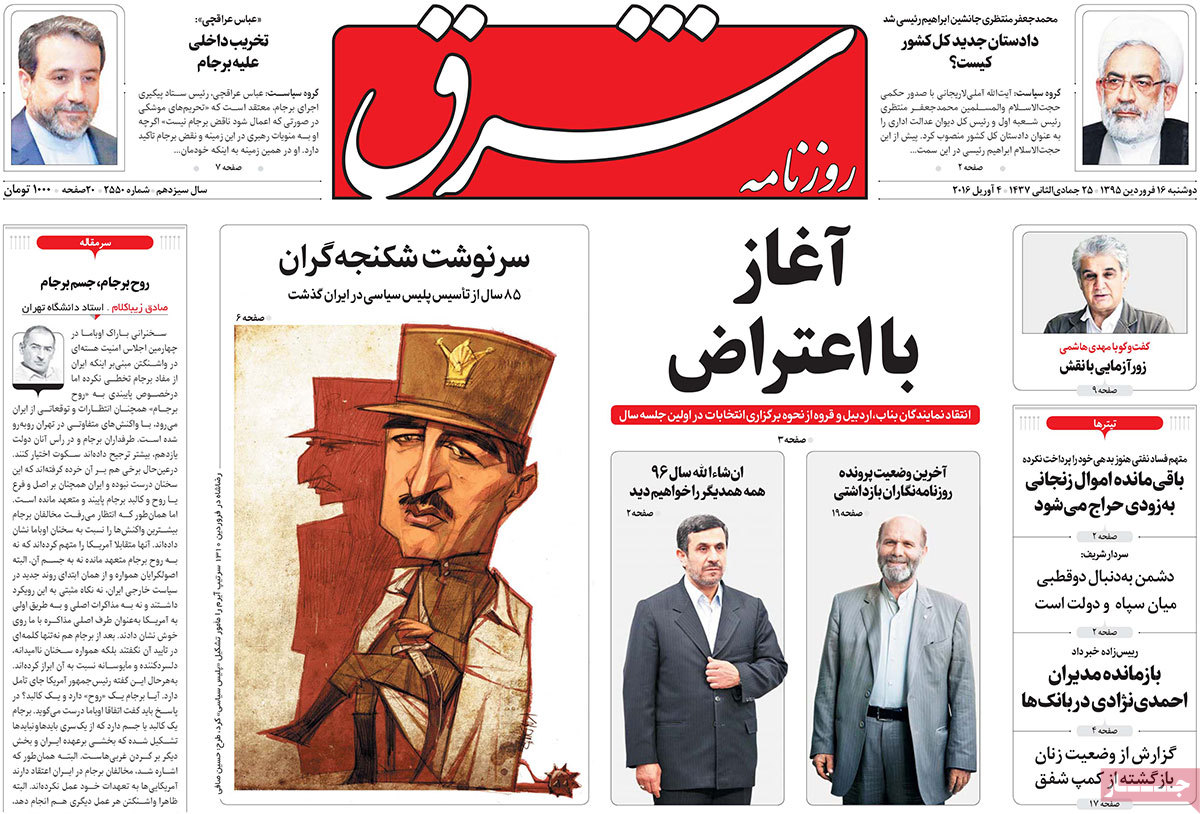 ---
Sahib Ghalam:
Average of 30litres of petrol used by every Iranian during Nowruz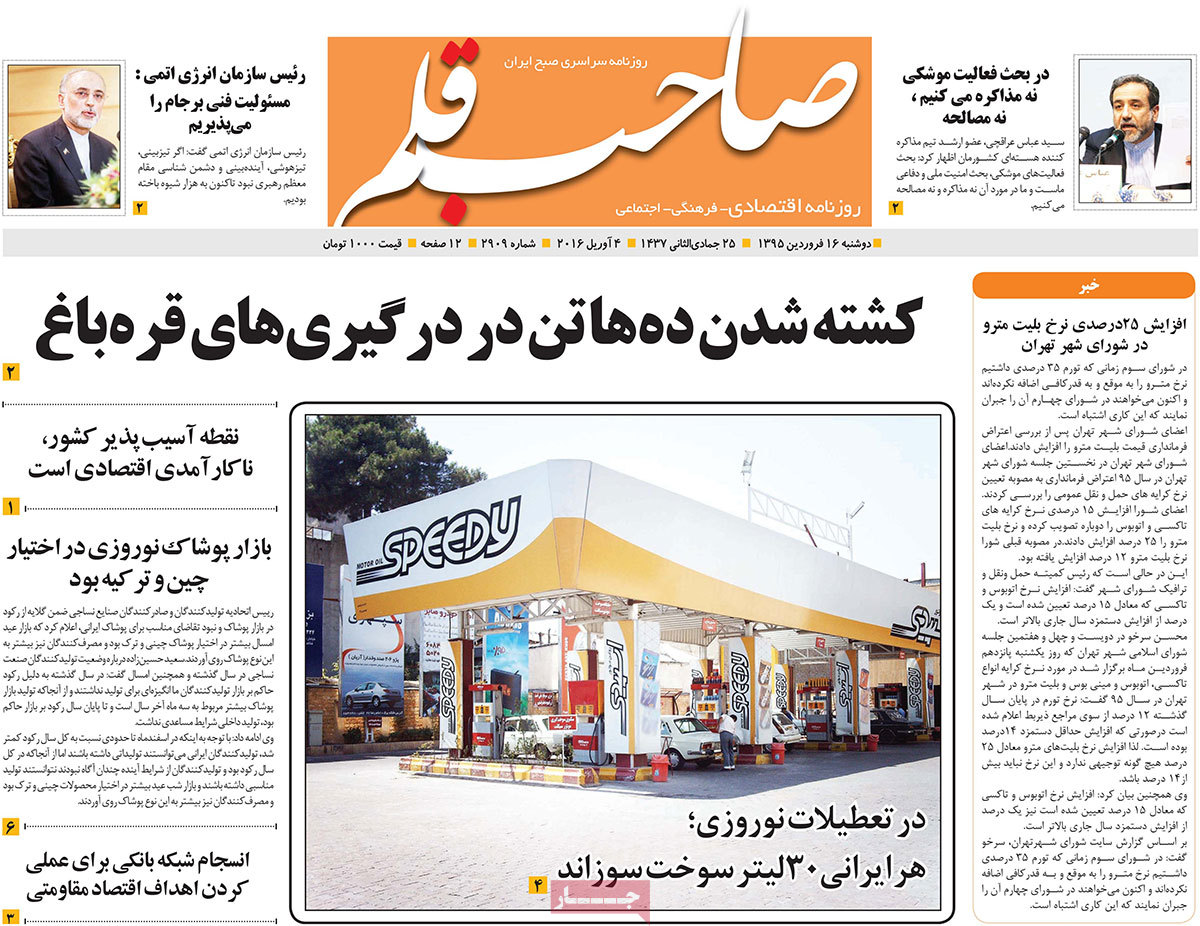 ---
Kayhan:
Former CBI head: Impact of 1billion-billion IRR will be manifest in 6 months
300 killed in Karabagh conflict
Terrorism, racism, crisis: price of supporting ISIS
0.5 million guardians and relief forces safeguard Nowruz travel
Top Iranian artists last year
---
Vatan Emrouz:
Coup de grâce of uranium production
Makeup artist
Strange remarks were made by senior negotiator Abbas Araqchi in justifying the US disruption of JCPOA implementation:
"New sanctions on missile program, no violation of JCPOA," Araqchi said in a televised interview, adding, "Currency restrictions have nothing to do with the nuclear deal."
Mohsen Rezaei: Iran missile strength prevented 5 US or Israeli assaults on Iran
---
Vaghyeh Ettefaghiyeh:
Plans underway to connect Iran railway to Iraq and Afghanistan
---
Asia:
Iran import tariffs nearing world standards
Close Iran-Turkey relations despite differences
Lack of liquidity bothering 70% of traders
Head of Austrian trade chamber encourages European traders to invest in Iran
---
Abrar Eqtesadi:
Renault inks first deal with Iran's Saipa
Iran crude oil average crosses $30/b
Iran's proven oil reserves in Persian Gulf exceed 100bn barrels
By Iran Front Page
Source Article from http://theiranproject.com/blog/2016/04/05/look-iranian-newspaper-front-pages-april-4-2/