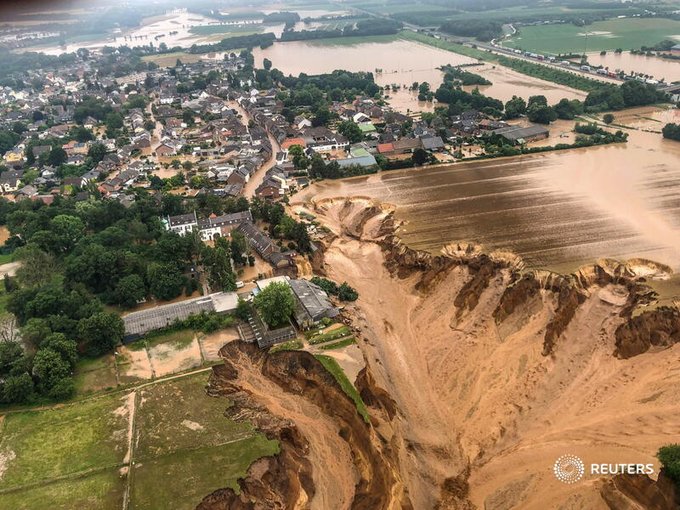 'More than 1,000 people are missing in flood-stricken regions of western Germany and Belgium, where waters were still rising with the death toll already well over 100 and communications in some areas cut.'
…

Lynmouth Flood Disaster: RAF rainmaking
In the UK – The Lynmouth Flood Disaster: Royal Air Force rainmaking experiment blamed for Devon's worst ever flood disaster
34 people died.
There is 'compelling evidence that scientists were carrying out cloud seeding experiments.'
Operation Cumulus was the name of the experiment being carried out by the RAF and an international team of scientists in August 1952.
On August 15 1952, the cloud seeding experiments came to a sudden end, official documents have confirmed.
It was also the same day that Devon experienced the biggest floods the region has seen in more than 300 years.
Classified government files suggest that a team of international scientists working with the RAF was experimenting with artificial rainmaking in the same week.
But unearthed documents at the public record office show that they were going on from 1949 to 1955.
RAF logbooks and personnel corroborate the evidence.
The scientists were based at Cranfield school of aeronautics and worked with the RAF and the MoD's meteorological research team at Farnborough. The chemicals were provided by ICI in Billingham.
Lynmouth Flood Disaster
Silver iodide can cause a downpour.
Silver residue has been discovered in the catchment waters of the river Lyn.
'According to Reuters news agency, two planes have been sent up to shoot salt flares into the clouds, with the aim of making them break.
"All clouds moving towards the Greater Jakarta area, which are estimated to lead to precipitation there, will be shot with NaCl (sodium chloride) material," Indonesia's technology agency BPPT explained in a statement.'