GOD cursed the Jews out of Jerusalem for life, for practising Satanism.
Jesus Christ tried to preach the word of God, but the antichrist crucified him for it.
ST. JUSTIN, martyr stated in 116 A. D. The Jews were behind all the persecutions of the Christians. They wandered through the country everywhere hating, killing, thieving, kidnapping children, poisoning wells, and undermining the Christian faith.
ONCE WE UNITE
We can stand up against those that keep seeking to divide us, with false news, and staged terrorist attacks. Together we can stop working for them, stop paying taxes, bills, fees, fraudulent debt etc. The end of the fiat currency that is used to enslave us begins. No more slavery, debt poverty terrorism illness evil and control e.t.c.
REAL MUSLIMS are never ever shown on TV News networks.  The Muslims you see on TV are the Jews dressed as Muslims, defaming them, to spread racism and hate among us. Wake up and stop hating false enemies that the Jews invent for us to focus on.
OUR NATURE IS SOVEREIGN (we are born free) and so, obviously, God wants us to be liberated from earthly rulers.
Jews were behind the
Crucades

,

Ku Klux Klan

,

Spanish Inquisition

, killing millions of real Christians, in the name of God, hiding behind the Roman Catholic Church (Vatican) spreading Terror... just like they are now doing to the Islamic religion.
JUDAISM = ZIONISM today, started way back in 740bc when the Amalek Edomite Khazarian Turks (now called JEWS), converted to Judaism for political reasons. A stolen identity and history, now needs a name to become complete, so the term "Jew" was invented in 1770. All history and so called "holy books" were re-written to accomodate the lies, to create the Satanic Jew... which has nothing to do with Israelite Hebrews.
HATE CRIMES. Today, the whole world already knows that U.S.A, England and Israel (Rothschild & Co.) plans attacks and wars, using proxy regimes in every country, (so no one blames the Jews) tying them to the dates of Jewish holidays. It's been noticed that not only terrorist attacks and military operations are planned on Jewish holidays, but also carrying out those terrorist attacks is planned so that the funerals from the attacks would fall on the feasts of the Jews
THE AGENDA: To destroy Christianity, just as they have destroyed empires, nations, heterosexual identities and nuclear families. The agenda is to strip people of power, control, unity, identity and health, leaving us defenceless in the face of a Jewish One-World Tyranny.
JUDAISM = SATANISM is the only religion that have sex (thrusting their pelvis) when they pray to Sex Goddess Shekinah. Jews today continue to murder Christian and non-Jewish children to use their blood in Jewish rituals and holidays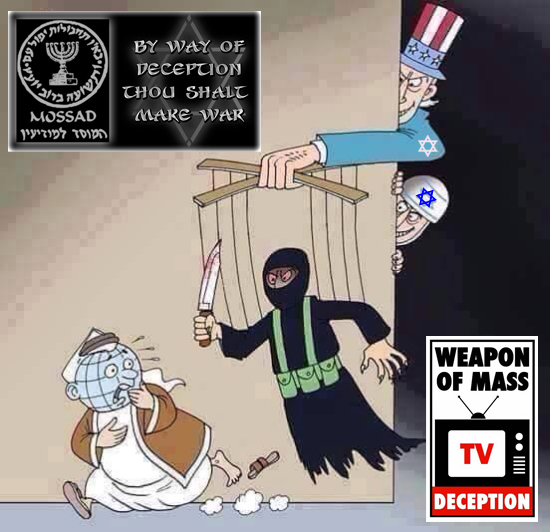 The invention of the Muslim Terrorist is the latest invention by the Jews, to spread fear and dismantle governments that are not yet puppets of the Jews...or have decided to stop serving the Jews.. justifying raping the World, and slaughtering billions of innocent genuine semite and gentile families in every country for power and control annually... under the illusion of Freedom, Democracy, War on Terror, or anything else that can justify their invasions and mass murders for their 2 horned God.
Jewish Rabbi claims Islam is Israel's broom
"We control Islam, and we'll use it to destroy the west."
1.PROBLEM 2.REACTION 3.SOLUTION.
The Elite Jews create the illness, then sell the Cure. They create Chaos & Terrorism, then sell the solution.
Problem, Reaction, Solution, is a Jew conjuring trick within their forever wandering diaspora in order to play the victim, and influence global changes in laws to protect all their historic and contemporary lies ……Who still falls for this old Yiddish trick manipulating policy changes to hide and protect Jewish crimes, acting out Trotsky's theory of permanent revolution against the gentile, changes which gives (((them))) immunity when hiding the truth.


Jews killing Christian Arabs again for their 2 horned God
Everyone was talking about Jesus! But when it came time to speak up for him in public, no one said a word. All were afraid of the Jews. Fear can stifle our witness. Although many people talk about Christ in church, when it comes to making a public statement about their faith, they are often embarrassed. Jesus says that he will acknowledge us before God if we acknowledge Him before others.
All 'Jews' today are the Khazars (converts) and Edomites, some call them the Khazarian Mafia (KM) hellbent on a World Government, as was the ruling Jewish class in the times of Jesus. Herod was an Edomite, after Esau ( Malachi 1: 3 ; Romans 9:13 ), not Jacob Israel. These Jew Fraudsters believe themelves to be Israelites (Hebrews) or from the royal tribe of Judah, claim the Bible Consignor gives themselves mandate to rule the whole world ( Psalm 2: 6-9 , Psalm 2: 10-11 , Deuteronomy 20: 10-14 , Deuteronomy 20 : 12-17 , Isaiah 60: 5 , 60: 10-11 , 60:12 , 60: 14-16 ,Psalm 2: 8 ; ), and a Judahite or descendent of the Tribe of Judah, most of the apostles were Israelites, only one of them was Jewish; Judas. The first time Jews are Mentioned in the Bible, is in II Kings 16: 6105: 44 ; 111: 6 ). Jesus was a Galilean or resident of Galilee ( Matthew 26:69 ; John 7:41 (and then only in translations revised in the eighteenth century) where we find Israel was at war with the Jews and drave the Jews from elathane. The 'Jews' in 'Jesus' time were Edomites/Turkic Mongols/Khazars/Amalak/Gog/Magog. Edom or Edomite had BEEN translated by Greek and Latin into Ioudaios and Iudaeus meaning a Judean or person living in Judea. The original King James version of the Bible, 1611, translated IDUMAEANS-Judean into Iewes. The first "Jews" were Canaanite-Edomite-Hittite.Source

January 27th, 2020
Jesus Christ ✝
The video, that was recorded, shows a poor dog, who was dragged behind his owner's truck! The dog was tied via a long metal chain! The was trying his best to keep up with the car's speed.
But sadly, the dog failed to stand on 4, and got dragged on the road. Unfortunately, the poor pooch died. Click below to watch video
Source Article from http://puppiespawz.com/cruel-man-chains-dog-car-drags-neck/
Hits: 10