Pentagon Report Details Alien Mothership Theory About Sending Probes To Earth
By Kathleen J. Anderson
March 17, 2023
Last month like many Americans, my husband and I were glued to our televisions as we watched coverage of unidentified flying objects showing up over our country and summarily getting shot down by our military. The first object, the famous Chinese spy balloon that took a meandering flight across our great country, kicked off the mix of fear and excitement when three more objects showed up shortly after that remained a bit of a mystery.
Whether you are a skeptic like me, who believed this was the beginning of the latest escalation of hostilities between our country and our adversaries, or a believer who thought first contact was on the horizon, it was a breathtaking month. However, government officials quickly quelled any worries or rumors that we had shot down little green men.
It seems we are safe…at least from having kicked off an intergalactic war which we would undoubtedly lose. But that has yet to stop the curiosity and desire from digging deeper into what or who could be…out there.

Biggerton Ouncington
@ALeftistMoniker
·
Follow
Get caught bombing the pipeline? 1 spy balloon Largest ecological disaster in my lifetime in Ohio? Ufo story Potential unrealized bond losses among dozens of banks? Alien mothership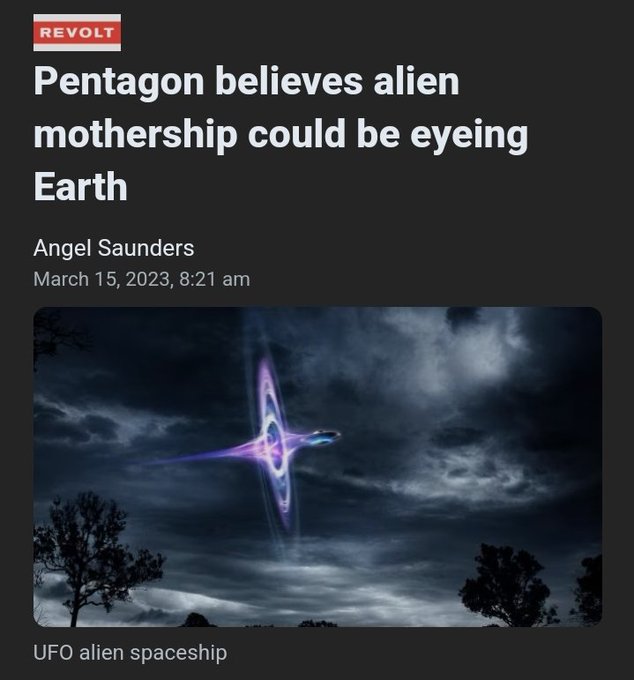 4:51 PM · Mar 15, 2023
Read the full conversation on Twitter
MORE HERE: https://thepoliticalinsider.com/pentagon-report-details-alien-mothership-theory-about-sending-probes-to-earth/?utm_campaign=TPI03172023IE&utm_source=criticalimpact&utm_medium=email&source=TPICI