By infostormer -October 23, 20213
NATO has just announced an insane plan to wage nuclear war against Russia.
RT:
Top defense chiefs from NATO member states have given a green light to a new grand strategy on how to beat Russia in any potential all-out conflict, as Moscow says the move proves the US-led bloc isn't open to improving relations.
On Thursday, ministers met in Brussels to sign off the scheme, named the "Concept for Deterrence and Defense in the Euro-Atlantic Area."

According to NATO's General Secretary, Jens Stoltenberg, it is part of efforts to "continue to strengthen our alliance with better and modernized plans."

The bloc's officials insist they don't believe an attack is imminent, but that it is worthwhile being prepared in any case.As part of the plan, NATO troops would fight against Russia's forces in both the Baltic Region and across the Black Sea.

The battle plans also focus on non-conventional warfare, including the use of nuclear weapons, cyber-attacks and even conflict in space. However, Kremlin Press Secretary Dmitry Peskov hit out at the adoption of the strategy on Friday, saying that it shows there is no prospect for turning around rock-bottom relations with the bloc.
Making crazy announcements like this is certainly not going to improve relations with Russia. Of course, I don't believe that these people have any desire to improve relations with Russia.
Lloyd Austin was at the NATO meeting. His gibberish statements about desiring peace were not remotely serious.

Jens Stoltenberg@jensstoltenberg
Great meeting of #NATO Defence ministers. We strengthened our deterrence & defence with a new overarching plan & new capability targets. We also addressed lessons learned in Afghanistan & met with our close partners #EU, #Sweden & #Finland to discuss further cooperation. #DefMin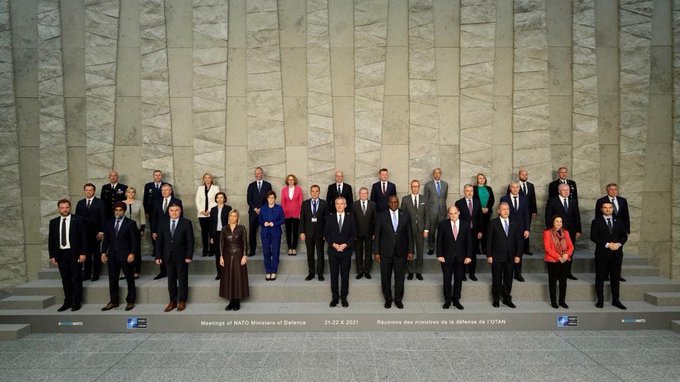 NATO which is just an extension of the broader ZOG system has been the one acting aggressively towards Russia. This announcement is just more proof of it. We don't see Vladimir Putin announcing plans to wage nuclear war on the United States or Europe. His statements about the military is largely based around defending the national interests of Russia.
NATO since the end of the Cold War, has been slowly expanding their influence over Eastern Europe. They even went so far as to stage a color revolution in Ukraine which resulted in the ouster of the pro-Russia leader back in the mid-2010s. This is not something people desiring peace would be engaging in.
The idea of waging nuclear war against Russia is ridiculous. This is just thinktank gibberish from people who operate in the theoretical and not the practical. I question if the West's nuclear arsenal even functions. Does anybody even know?
The United States and the countries within its sphere of influence are in decline. They're currently waging war against their own people with the virus hoax, forced-vaxxing and other stupid hoaxes. The idea that they can wage any sort of successful war against Russia is becoming increasingly ridiculous by the day.
The United States couldn't even maintain control over Afghanistan and were defeated by goat herders armed only with AK-47s in Toyota pickup trucks.
Yet, here we see all sorts of big talk about waging war against countries with advanced military capabilities like Russia and China. These people are not living in the real world.
Comment: Insane, delusional Mega Fu__U_s Now Run the U.S. and will destroy us all in their addiction to bullying other countries and evil desire for World Domination. We will all starve.